Real Estate Advertising by Stan Barron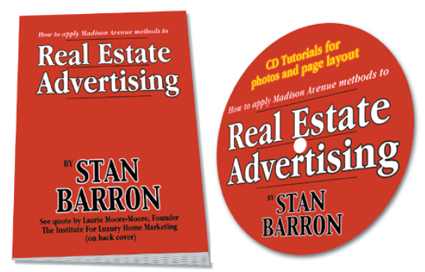 The new
book and tutorial CD by Stan Barron
Get more listings...sell more listings...as you learn step-by-step
"How to apply Madison Avenue methods to real estate advertising"
If you have heard Stan make a presentation, or seen some of his ads, you know that his marketing approach is sooo different than the traditional real estate marketer. Stan is known for his simple, but profound approach to putting some showmanship into the marketing of a home.

Here, for the first time, is a thorough training series—a fully illustrated book with many examples along with a training video in which he shows how to create eye-popping photographs. He also demonstrates how to start with a blank page and end up with an elegant layout.

The large-format book discusses the most common types of marketing situations we face as agents. Get answers to questions like:

How do you write an ad for a home when it is more expensive than surrounding houses?
What do you say when your listing has a problem...like a small yard, road noise or a dated design?
How do you write an ad for a home that has unique features or is architect-designed?
Perfectly good houses go unsold all the time, so how do you write an ad so the listing can escape from obscurity?
You get sample ads that will give you great ideas for your own marketing material.

Learn important strategies such as how to position or brand a property. In example after example, you see how to breathe personality into your marketing descriptions. You gain insights in how to apply "Madison Avenue" advertising methods in your practice.

Barron's book also includes an updated section of "How To Photograph Houses." This "how to" section of the book is the most practical advice ever given to the real estate industry for getting professional-caliber photographs.

An industry first—the training CD is simply amazing!
If you have ever thought about getting the world-class photo editing software called Adobe Photoshop, you may have hesitated because of its steep learning curve. Barron has created a training CD that demonstrates how to use this powerful software. He shows the methods the pros use to make photos "pop".

Special pricing and a bonus for Members of the Institute for Luxury Home Marketing
Order now, and you also get full-sized samples of ALL the ads used in the book.
And there is one additional bonus—a huge price savings for the entire system. You get the book, training CD, more than a dozen ad samples, at more than half off.

Reg. $200.00 Now $129